PIPET TIPS FOR ZYMARK SYSTEM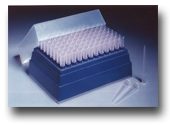 These pipet tips are specifically designed for use with the Zymark automated liquid handling system.
Polypropylene 1-200 Ál tip
Available in 3 configurations: a bag of 1000, 10 racks of 96 tips, and 10 racks of 96 sterile tips.
Rack with individual compartments for each tip prevents cross contamination.
Click here for Pipet Tip Selection and Cross-Reference Guide