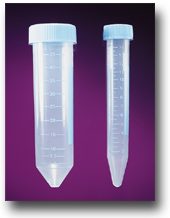 Premium quality general purpose centrifuge tubes with optional printed graduations.
Easy to Read

Available with molded-in graduations, or for exceptional reading ease, printed graduations.
Large writing area on printed tubes makes identification simple.

Superior Clarity and Durability

50 ml: Made from premium polypropylene copolymer for excellent chemical resistance; withstands temperature extremes of -40º C to 125º C; high centrifugation of 6000RCF; exceptional clarity.
15 ml: Available in polystyrene or polypropylene. Polystyrene offers glass-like clarity and can withstand 1800 RCF. Polypropylene has excellent chemical resistance and can withstand 6400 RCF.

Various Packaging

Available in Bulk, Bag Pack, or expanded styrene Foam Trays.
Available non-sterile, or sterilized by gamma irradiation. C to 125 Available in 3 configurations: a bag of 1000, 10 racks of 96 tips, and 10 racks of 96 sterile tips.
Leakproof Seal

Molded in seal-ring ensures a leakproof seal without the contamination problems associated with cap liners.