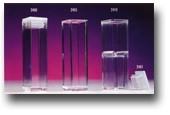 Our Macro and Semi-Micro cuvettes are specially packaged to reach you scratch- free.
Manufactured from polystyrene formulated for superior clarity and transmission.
Fits most spectrophotometers, including Beckman, Perkin-Elmer, Gilford, Hitachi, Varian, and Shimadzu.
Packed in dust resistant trays.
Each cuvette is packed in its own individual compartment to assure scratch-free optical surfaces.
Polyethylene cap with flexible double seals separately available.